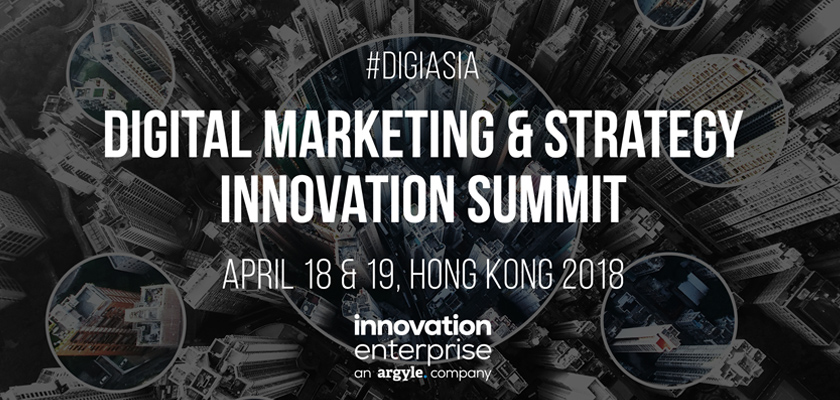 Digital Marketing & Strategy Innovation Summit Returns to Hong Kong Next Week
The Digital Marketing & Strategy Innovation Summit, hosted by Innovation Enterprise, is returning to Hong Kong on April 18 & 19, at The Mira Hong Kong.
Expected to gather together 120 digital marketers and strategists across industries, the summit offers a unique opportunity to learn the latest digital trends, set directions and create new collaborations.
Social Media & Content Marketing
Social marketing experts from Hong Kong Airlines, Marriott International, Coachbase and Hootsuite will share their insights and strategies on how to crack the code of social, stay up-to-date with trends and get measurable results.
Digital Transformation
Liana Yu, the Associate Director, Digital Transformation at Reckitt Benckiser will showcase their digital transformation journeys. Attendees will gain a better understanding of how digital transformation is revolutionising the retail industry and how to deliver amazing customer experience and drive brand growth.
Zhiyu Chen, the SVP, Sam's Club E-Commerce and CBEC at Walmart will discuss digital transformation from a different New Retail perspective – driving changes from internal. He will talk about how to encourage the front line staff to demonstrate the right behavior, how to deal with the cannibalisation challenge and many more.
Marketing Analytics
An integrated marketing-analytics approach is the key to drive brand growth. Josh Nedeljkovic, the Head of Strategic Projects from Deliveroo will share his experience on how to use data to build the future of food delivery business. Trinh Thai, VP, Head of Marketing from Lazada will explain their best practices and share her experience on cross-border B2B marketing with Lazada-wide offices across Southeast Asia.
Other topics to be cover at this summit include AI, Chatbots, Customer Engagement and Multi-Platform Marketing.
Check their website for more information:
https://theinnovationenterprise.com/summits/digital-marketing-strategy-innovation-summit-hong-kong-2018/schedule
PR Newswire is the event's official news release distribution partner.
About Innovation Enterprise
Innovation Enterprise Ltd, a division of Argyle Executive Forum, is a business-to-business media brand specializing in delivering the most innovative business solutions to executive-level decision makers. Innovation Enterprise produces a range on online and offline content, including, but not limited to, summits, online learning, webinars, and white papers, as well as offering other additional services such as lead generation and bespoke research.
Innovation Enterprise focuses on seven key channels — Finance, Analytics, Big Data, Strategy, Digital, Innovation & Sports — to ensure that organizations are furnished with all the cutting-edge insights necessary to driving growth in the evolving business environment.
Follow us on social media:
Subscribe to our newsletter: